REGISTER FOR €14.99 / MONTH
Twice a month on Sundays at 5pm (Paris time, France), I host Le Cercle des Gribouilleurs (doodler's circle). A creative, online, two-hour event, structured by a pedagogy that I have created to bring everyone to enjoy drawing.
There are no prerequisites, you just have to want to doodle! The material is free, if you don't have any ideas: a wooden pencil and a sheet of A4 paper are ideal to start. Each session has a theme that I prepare in advance and present to you at the beginning of the session. You are free to ask any questions you like during the session via the chat or by raising your hand.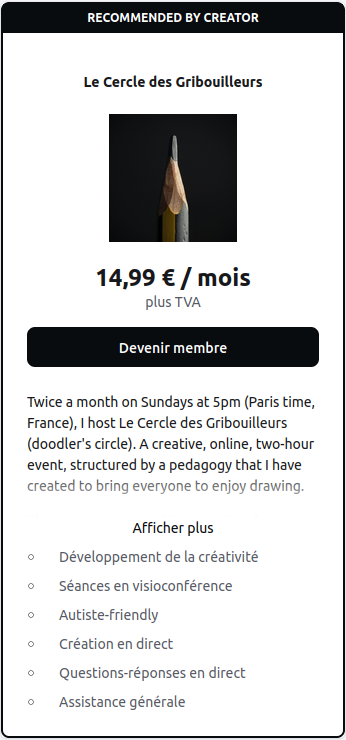 Deux fois par mois, le dimanche à 17h (heure de Paris, France), j'anime Le Cercle des Gribouilleurs. Un événement créatif, en ligne, de deux heures, structuré par une pédagogie que j'ai créée pour amener tout le monde à prendre plaisir à dessiner.
Aucun prérequis n'est nécessaire, il suffit d'avoir envie de gribouiller ! Le matériel est libre, si vous n'avez pas d'idées : un crayon de bois et une feuille de papier A4 sont idéaux pour commencer. Chaque séance aborde un thème que je prépare à l'avance et que je vous présente en début de séance. Vous êtes libre de poser toutes les questions que vous voulez pendant la séance par le biais du chat ou en levant la main.
S'INSCRIRE POUR 14,99 € PAR MOIS